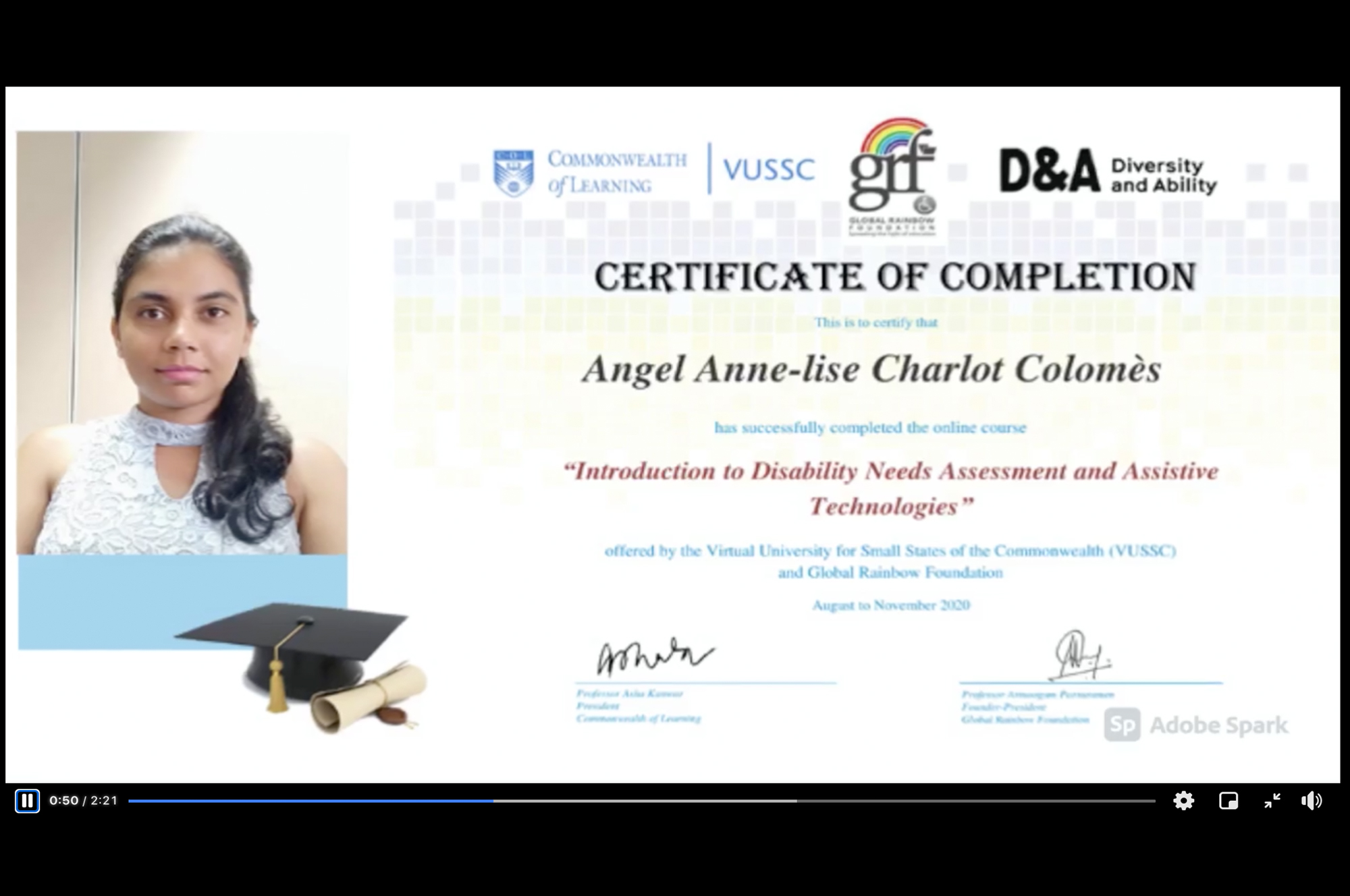 VUSSC News
Inspiring teachers to unlock confidence in learners
Confidence is the most beautiful thing you can possess.

Sabrina Carpenter, American musician
The profound impact of unlocking confidence and independence in young learners was on full display recently when 29 graduates of Mauritius' first-ever Assistive Technologies programme celebrated their achievements with a virtual ceremony.
The course they've just completed was a pilot programme, a specially-tailored 12-week online course, developed by Diversity & Ability, UK in conjunction with Commonwealth of Learning (COL) and the Global Rainbow Foundation. During the online course, special education teachers – disability professionals from NGOs who work with persons with disabilities – from across Mauritius were taught how to conduct meaningful needs assessments and introduced to accessible, assistive technologies that can help their students' learning.
Nitishali Naugah, a Speech Language Therapist who graduated from the course, described how the experience had changed her practice, leaving her feeling more confident recommending different technologies to children.
"We all have a voice, and all voices need to be heard," she said. "I have the responsibility to inspire strength in my students so they can raise their voices in the future."
"There's been such a journey here, I'm so grateful for you as students," Diversity + Ability CEO Atif Choudhury told the teachers during the ceremony wrapping up the pilot course. "Empowering people with disabilities is important and is valuable to people and society."
The course provided learners with a series of practical application exercises integrated throughout the course to ensure they had an opportunity to explore and experiment with the technologies in their classrooms and workplaces.
Interest in the course for teachers in other countries is already piquing, with Trinidad and Tobago and Tonga already enquiring about having a version of the course tailored for their teachers.
COL President & CEO, Asha Singh Kanwar, also thanked the teacher/learners for the important role they played in helping ensure the course was a success and noted the role that partnerships played in bringing the course to life.
"Development of this course was possible because of vital partnerships," she said. "Partnerships flourish when organizations share common values."
For more information on the topic, COL has published Improving the Lives of Persons with Disabilities through Assistive Technology, an article on assistive technologies as well as a Knowledge Series primer Assistive Technologies: Inclusive Teaching Guidelines for Educators.