Despite living more than 1,300 km inland from the Indian Ocean in Hyderabad, 15-year-old Kirti Shreya has long dreamed of the flora and wildlife that make up the world's marine ecosystem.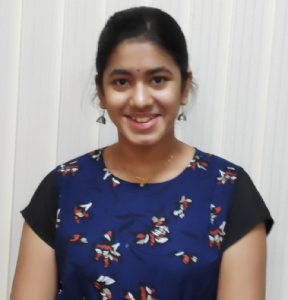 So, when she was looking for an online course to increase her understanding of the marine world, the Grade 11 student was thrilled to come across the Commonwealth of Learning's Blue Economy: Blue Space MOOC, the fourth in a series of Blue Economy courses offered through the Virtual University for Small States of the Commonwealth (VUSSC).
The fact that she was one of the youngest learners ever to participate in a VUUSC MOOC didn't faze Kirti, who completed the Blue Space course along with hundreds of others around the world, strengthening her interest and understanding of a number of complex issues in the process.
"I've always been very interested in the flora and fauna of the marine world," says Kirti, who says that despite being able to spend limited time near the ocean, has many friends who live in coastal regions and who describe the plants, climate and other species in conversations with her.
She is eager to learn about environment, climate and eco balance and very interested in learning more about life under water adding, "Water is a driving force for this beautiful nature and our lifecycle is entangled with water."
"We're all dependent on the oceans of the world, regardless of where we live," Kirti says. After reading through some of the course materials, Kirti's interest in the Blue Economy has been heightened by what she sees as the potential for coastal adaptations to provide millions of jobs and lead to improvements in human development.
She felt the instruction she received was good and that the explanations and materials she reviewed helped her gain a significantly better understanding of the many issues she was being exposed to.
Happy to be attracting learners of all ages
COL Education Specialist Mairette Newman is excited the Blue Economy courses are attracting younger learners, particularly ones from land-locked regions of the world.
"I'm thrilled that someone like Kirti has followed her passion for marine issues at such an early age," says Mairette. "The MOOC offers Kirti and other young persons a 'taster experience' and is a great way for them to see what the Blue Economy is all about and to decide if this is an area they'd like to pursue."
If Kirti continues to pursue her passion for marine studies – she's also considering a career in neuroscience – the Blue Economy MOOC is just one of many courses she will take along the way towards a university degree.
When asked for her favourite marine animal, she was quick to respond. "The Blue Whale," she says. "They have no predators, and they're also very rare, so you don't get much chance to see one."
Similar to her favourite animal, Kirti's dedication and commitment to her studies at such a young age can also be a rare and inspiring sight.
The Blue Economy series of free MOOCs is delivered through a partnership between two internationally recognised institutions: the University of Seychelles (UniSey) and the Commonwealth of Learning, and is facilitated by Kelly Hoareau, Director of the James Michel Blue Economy Research Institute at UniSey. Learners completing one of the courses will increase their understanding of the key activities that make use of coastal and marine space, the benefits and impacts of these activities and the role of sustainability in advancing development of these areas. The series will be offered again beginning in October 2021.
More information on the fourth course, The Blue Economy: Blue Space is available here.