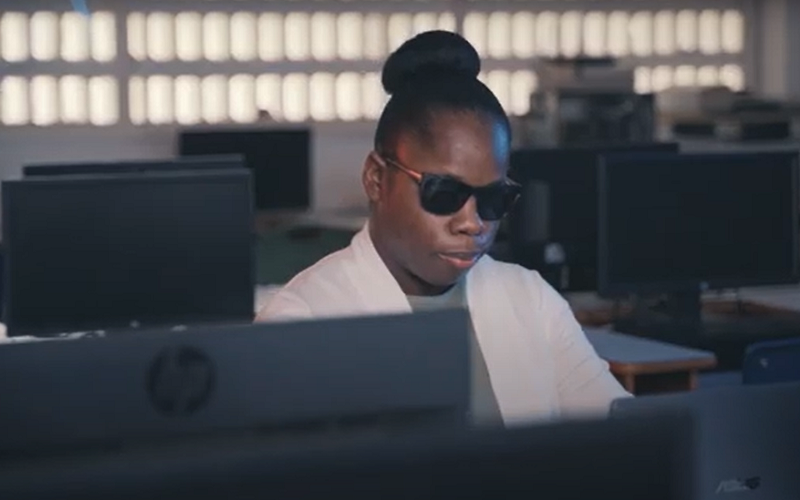 VUSSC News
Eastern Caribbean approach to assistive technology PD succeeds with a dramatic shift
For most of us, if we were offered a 10 per cent chance at getting a fair deal in life, we would wonder why the odds were stacked against us.
But, according to World Health Organization research, that's the situation facing millions of young learners with disabilities in classrooms across the world, with only 1 in 10 of these learners having access to the assistive technologies they need to succeed in their education.
This kind of dire situation is exactly why the Commonwealth of Learning's (COL) Virtual University for Small States of the Commonwealth's (VUSSC) recent partnership with the members of the Organisation of Eastern Caribbean States (OECS) and Diversity and Ability UK, an organisation led by and for disabled people, has been a successful one.
Taking an innovative approach to educator professional development
Known as the OECS Assistive Technologies (AT) for Special Education Needs course, the collaboration involved delivering hands-on training to approximately 50 OECS educators in how to determine which assistive technologies are needed for learners with special education needs and how to help them apply these technologies. 
While some of these educators were Special Education teachers, others were Education Officers, all from OECS Member States: Antigua and Barbuda; British Virgin Islands; Grenada; St Kitts and Nevis; St Lucia; St Vincent and the Grenadines. The COL-led course took a different approach than the OECS member countries had followed historically, moving to a job-embedded, multi-modal type of professional development (PD).
"This course is critical for us because it is the first one that we are able to build according to our OECS Professional Development (PD) Model and fit within the new OECS PD Programme," says Rafer Gordon, Project Manager for the OECS Education Development Management Unit.
"More importantly though, it's linked to the just concluded comprehensive survey of special education needs in the OECS and serves as a precursor to us procuring thousands of assistive devices to help students across the region."
Built on a Moodle platform provided by COL, the course was aimed at offering an evidence-based process for teachers to choose assistive technology tools for the learners in their classrooms, taking a deliberate low-tech, low-cost approach to enable program sustainability.
A number of participants appreciated the hands-on nature of the teaching, an approach that led them to discover they had tools and technologies already available to them – such as software with AT tools that are part of the basic operating system – that can be used to support students with special educational needs.
"Personally, I appreciated the fact that our facilitators used Assistive Technologies in their daily lives," explained one course participant, "they truly were the best pick to teach and share this information."
"Support for learners with disabilities and their teachers has long been a neglected area," explains Dr. Mairette Newman, adding that with an estimated one billion people in the world with disabilities, ensuring this vast group gets the education they deserve is vital to the development of their countries. "Our shared vision is that together we can create a more inclusive world," she adds, "so working alongside Diversity and Ability UK has been key in ensuring that the design and delivery of the training is tailored to the unique needs of each individual and each context."
Several key reasons for the success of the recent training are that it is:
Practical

– focusing on technologies that are accessible, and affordable and don't widen existing inequalities.

Solutions-focused

– introducing teachers to an array of technologies, each of which can be tailored to support individual learners.

Inclusive in its design

– it's suitable for mainstream and special education teachers as well as teachers with disabilities. 
The approach also allows for greater sustainability of the programme, meaning that schools can take on the replacement of the assistive technology tools when it's necessary.
For more information on assistive technologies in the classroom, review COL's Assistive Technologies: Inclusive Teaching Guidelines for Educators Guide.