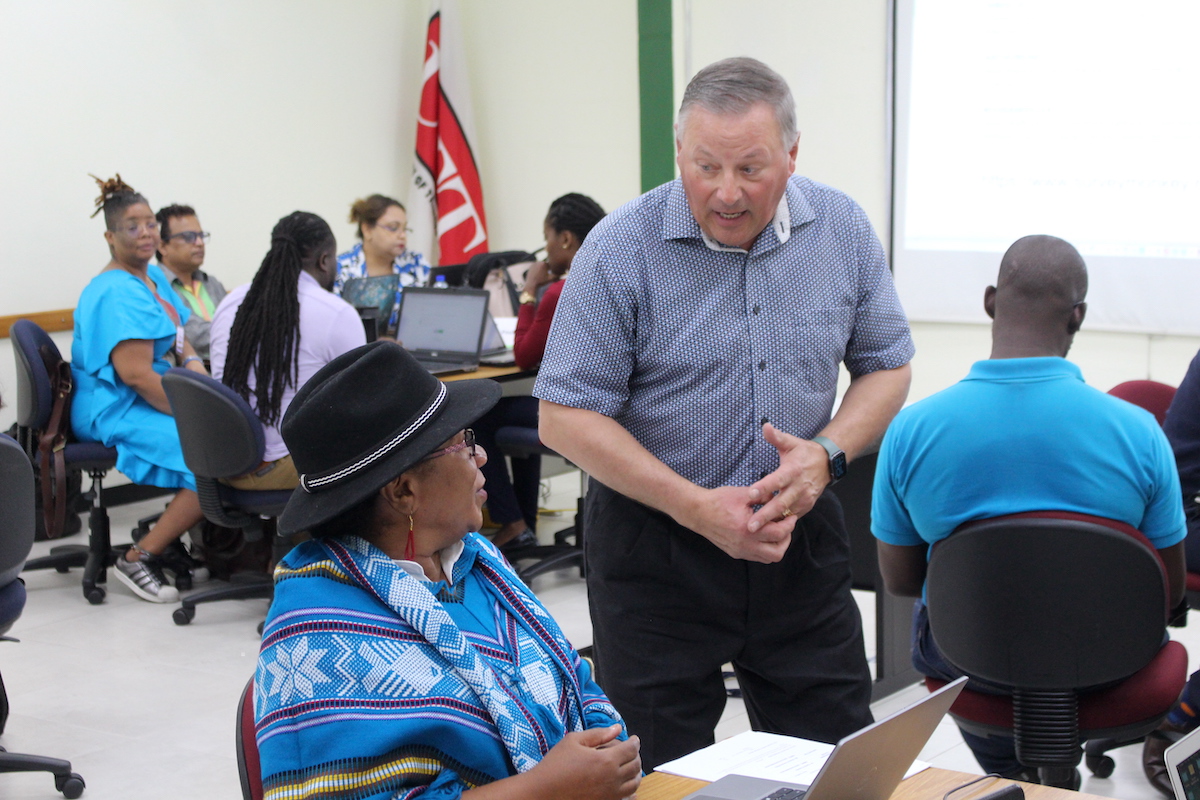 VUSSC News
Supporting dispute resolution and conflict management beyond Trinidad and Tobago's borders
Venturing into the world of MOOCs (Massive Open Online Courses) for the first time ever recently, the University of Trinidad and Tobago (UTT) "hit for six" with its first MOOC, a free five-week online course on Dispute Resolution and Conflict Management for Law Enforcement.
Designed and developed with the support of Commonwealth of Learning (COL) and the Virtual University for Small States of the Commonwealth (VUSSC), the UTT team attracted more than 1,200 registrants wanting to learn how to manage conflicts in a variety of contexts. Dr. Ruby Alleyne, UTT Vice-President for Quality Assurance and Institutional Effectiveness was pleasantly surprised by both the number of learners and their enthusiastic participation. 
Rising violence and crime in Trinidad and Tobago as well as in other countries around the world helped UTT leaders like Dr. Alleyne agree on the subject for the university's first foray into MOOCs. She highlighted the university's positive experience in attracting learners outside of its traditional pool of learners and spoke highly of the shift made by UTT educators to make the course a reality in a relatively short timeframe.
"We're thrilled to have attracted learners from such a wide variety of industries outside of traditional law enforcement," she says. "while engaging learners beyond our country's borders was also an enriching experience for us," she adds.
"We already have requests from a number of these learners for a follow-up course in mediation, which bodes well for an ongoing relationship with these mature learners."
UTT's ability to offer the highly rated MOOC was powered by a strong partnership with COL, which helped train close to 40 UTT educators in designing and developing MOOCs as well as walked UTT leaders through a process for developing the institutional guidelines for the development and delivery of MOOCs.
Dr. Alleyne credits COL's contribution to helping UTT deliver MOOCs as an exciting evolution of UTT's conventional course delivery, helping the university build its reputation internationally while meeting the needs of this diverse student population beyond Trinidad and Tobago. 
"We're excited to see the impact that this type of support can have on a well-established institution like UTT," says COL Education Specialist, Dr. Mairette Newman. "Helping the UTT team expand their distance learning provision to broaden and diversify their learner base is something that COL is proud to assist with."
Dr. Linda Mohammed, Assistant Professor & Programme Leader, UTT Institute of Criminology & Public Safety was one of the educators who developed and delivered the successful MOOC. She also partnered with Mr. McDonald Jacob a 40-year veteran of the Trinidad and Tobago Police Service (TTPS) who stepped down from his role as Acting TTPS Commissioner earlier this year and brought stories of real-life conflict resolution experiences to the course.
Dr. Mohammed described the approach taken to attracting learners from outside of typical law enforcement industries as deliberate and was excited to witness the results first-hand.
"Dispute and conflict resolution is everyone's business, we will all be engaging in this activity for our entire lives," she says. "Which is what made teaching this rich cross-section of learners such a wonderful experience both for me and for them."
Jeremy Williams, UTT's Manager of Academic Standards, was one of the UTT team members responsible for the MOOC. He spoke about the challenges of attracting a group of learners that came from well beyond Trinidad & Tobago's borders, and included participants from other Caribbean nations as well as from Africa and even further afield.
"The online discussions during the five weeks were extremely engaging and difficult for our team to keep up with at times," he said. "But we could see that by sharing their real-life experiences and situations, these discussions were an important part of the learning process as learners were actively working to help their colleagues solve problems, which was fascinating to be a part of."
This course is designed to equip participants with the knowledge and skills to navigate conflicts and resolve disputes amicably. Participants were provided with an understanding of the linkage between conflict and interpersonal skills and explored non-violent methods of conflict resolution including Alternative Dispute Resolution (ADR).
More information on the Dispute Resolution and Conflict Management for Law Enforcement MOOC is available here.